Food for Thought: A Breakfast Beyond Compare
If you've never had a fresh, homemade breakfast crafted with locally sourced ingredients, (including some from nearby farms), using organic ingredients wherever possible, made with the personal touches of a former catering manager, you are missing out! And that's what guests of Water to Wine Glampground say about the meals they've had from the hand of Rainey J., our verified superhost and founder. Rainey's breakfasts are simply beyond compare. But don't take our word for it! Read what our guests have to say:
If that commentary isn't enough to convince you, pictures just might do it instead. As chief cook, baker, (and interior decorator-candlestick maker), Rainey doesn't just offer baskets of breakfast muffins, carafes of coffee, jugs of fresh juices, and a few pieces of fruit – no, she sets out a near farm-sized spread for guests (and accommodates an array of nutritional needs or food allergies, too.) Her homemade breakfast goodies (see photos above!) are served in style, supplemented with touches like fresh berries from local Mennonite farm stands, and milk from local dairies. (Gluten-free oatmeal loaf, anyone? Yeah, we thought that might be a yes!)
Our guests visiting the Finger Lakes region from near and far complement her culinary skills time and time again, and we're so confident you'll love what she plates up for guests each morning, you'll be singing her praises soon, too!
If that's not enough to tempt your palette,  Rainey also offers optional upgrades to every glamping reservation, in the form of a gourmet lunch pail for two, or a weekend dinner basket (also for two). A typical dinner basket offering may hold fresh salmon fillets, packaged in foil for quick grilling on your private BBQ, homemade mango salsa, fresh coconut rice, in-season veggies (often from local farm stands), with fresh bread or rolls on the side. Fully catered meals such as her shish kabobs over rice can also be ordered in advance. But again, don't take our word for it!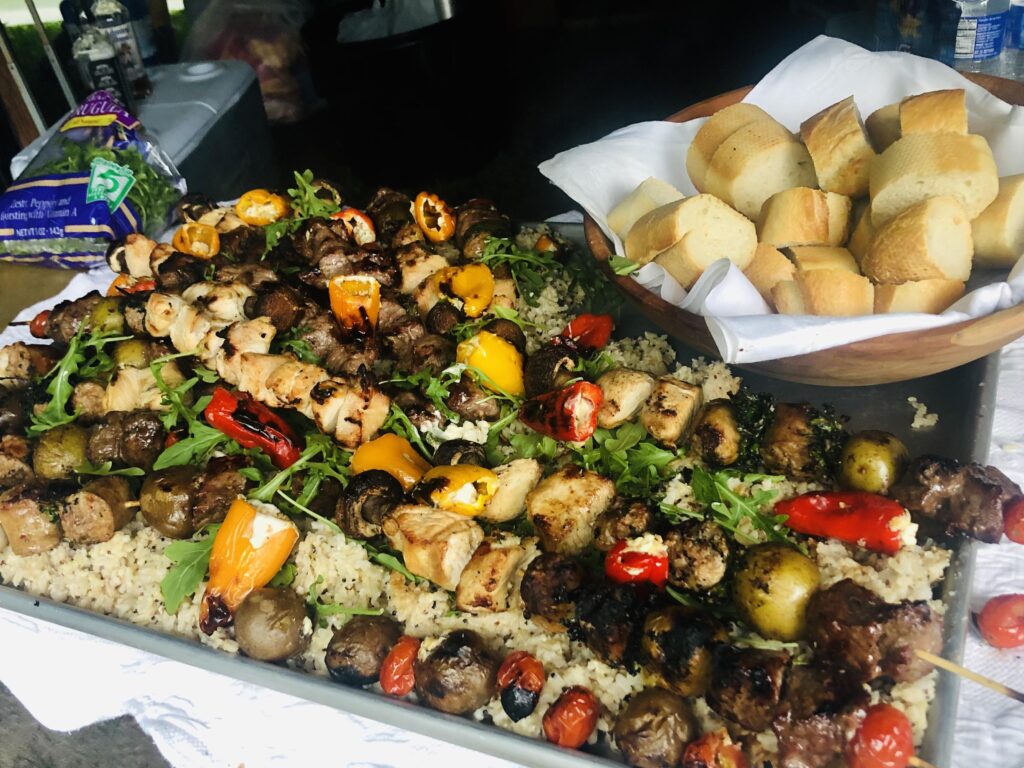 It's all part of what you'll enjoy when you come to the Finger Lakes region and choose to stay here at Water to Wine Glampground. Get a taste of the good stuff, right here!  To add one of our Gourmet Lunch Pail Upgrades or a Dinner Basket for Two to your Tent and Breakfast rental reservation, please contact Rainey directly through our Contact Us form (email). She looks forward to welcoming you to the Dining Pavilion in the morning!