Glamping with Kids 101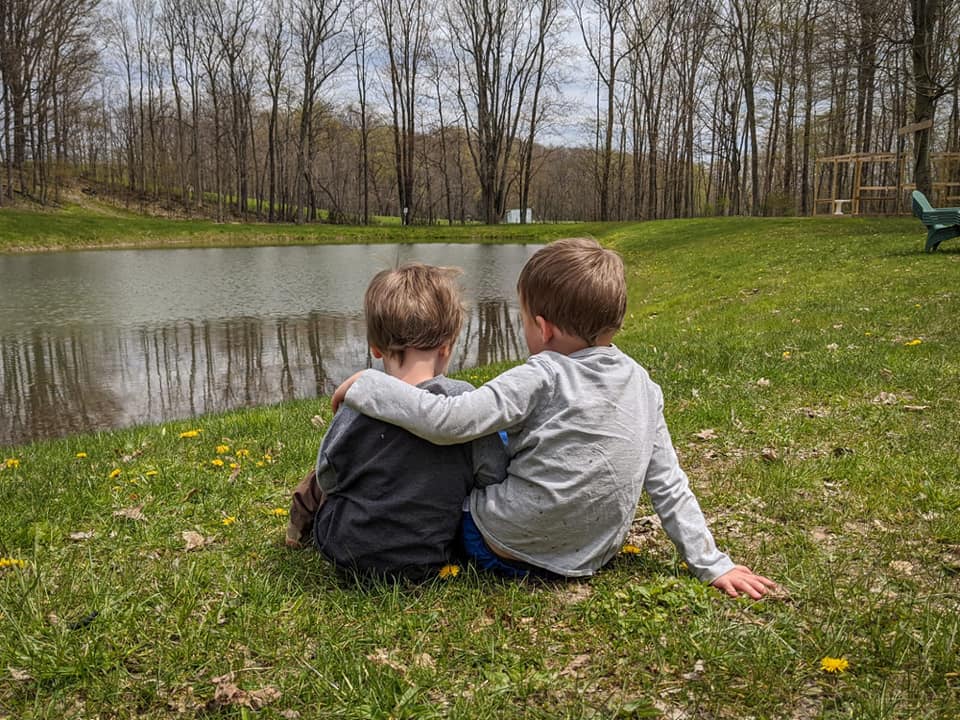 So what advice can a mother of nine and a grandmother of seven offer to parents planning to take the kids on their first glamping adventure? Here's some well-seasoned wisdom from your superhost and glamping guide, Rainey: 
Glamping with Kids 101: Five Tips for Success
So if it's your first visit to the Finger Lakes region, or possibly your first glamping experience, we're here to help you have the best trip possible. Glamping is short for "glamorous camping," and it features lots of upscale amenities to make you and your family feel pampered. For example, here at Water to Wine you'll be staying in a spacious, oversize tent you didn't pack or pitch, sleeping in real beds with linens, pillows, and blankets, surrounded by cozy furnishings, and served a homemade, locally sourced breakfast each morning. However, the word "camping" is still part of the picture. 
You will still be in the great outdoors, still be off-the-grid, away from electricity, cable TV, and WiFi, and you'll still be using a private privy (our super-clean, nicer-than-normal version of an outhouse, porta-john, or loo) or an eco-friendly restroom trailer. So in many ways, glamping will still look and feel different from being surrounded by all the comforts of home, even if there are a number of comforts to enjoy. And your kids may still wonder what glamping will be like or have lots of questions about experiencing something a little different and out of the ordinary. So the first thing to pack for success when glamping with kids is …
A sense of adventure and curiosity
You and your family might spot some forest animals here at Water to Wine Glampground, such as deer, raccoons, rabbits, squirrels, foxes, or maybe even a wild turkey on occasion. Why not turn it into a game? Consider asking your young ones to keep a list of the different animals they spot. For sure, they'll be fascinated by the plentiful koi fish in our large pond. When the sun goes down and the stars come out, why not count some? And don't be surprised if your kids try to convince you to adopt our Campfire Cat (who goes by the nickname C.C. or Carl) to take home by the end of the weekend either. With so many nearby hiking trails, waterfalls, cycling, kayak, sailboard, or swimming options, there are many adventures to be had during your Finger Lakes vacation. A few items you will NOT need to pack, so here's the next tip:
Leave the electronics at home.
Since there's no electricity here to charge game consoles, tablets, or smartphones, and no Wifi to access online games or entertainment, there's no reason to bring your child's Nintendo X-box, Wii, or iPad. Most of our guests cite being able to literally "unplug," as one of the biggest perks to staying on site at Water to Wine, and we love to encourage families to explore our woodland (and popular Finger Lakes region day-trip destinations nearby) to heart's content. We've seen it happen so many times before. Once the kiddos begin to experience how much there is to explore and discover here in nature, they have a BALL creating their own fun and entertainment. Should you wish to try our Kid's Cot & Pond Package, it includes all the essentials for a Glamping Adventure: a child-size cot dressed with linens, breakfast each morning, snacks, and a kid-size bucket 'o' goodies. Inside, your child will find a fish net, flashlight, fish food (for the koi) and, with your parental permission, optional access to our pedal boat for the pond. So the next two things to pack would be …  
Play clothes, and maybe even rain boots
If you and your kids are having adventures in the great outdoors, exploring some of the groomed trails that meander around our 30-acre woodland site, feeding fish in the pond, digging along the shoreline on a search for snails or worms, or maybe playing active games such as a bean bag toss, Bocci ball, frisbee, or a simple game of tag with siblings, a little bit of dirt, mud, or a few stray leaves could be common. So, yes, bringing along your daughter's colorful puddlejumpers might not be a bad idea. Maybe even the raincoat, just in case. And a few changes of play clothes that stretch with your son's wiggles and jiggles, the ones that easily wash clean, are definitely in order. All that energy and exercise leads us to the next tip …
Plan for early bedtimes  … and remember your little one's favorite stuffed animal
This is one perk of glamping the parents always love: seeing kids crash early after a full day of fresh air, outdoor activities, and lots of playtime. While our glampground does boast plenty of solar lanterns and the community campfire each night is an appealing draw (especially with our Gourmet S'mores boxes!), the natural dark after sundown and the energy they've expended exploring most of the day will help cue your child's body clock for an early bedtime. Of course, they'll still want their favorite blankie or cuddle buddy when you tuck them in and say goodnight prayers, so be sure to bring those along. (As if they'd ever let you forget it, right? Yep, we understand.) If you have to duck away from the campfire to get the kids down for the night, no worries, we'll save your seats and you can come back and enjoy a few S'mores of your own!
5. Let us lend a hand. 
Aside from that, just sit back and relax. We've got you covered, especially when it comes to a kid-friendly breakfast at our Dining Pavilion. It's just one more thing you don't have to provide during your family glamping vacation. But don't take my word for it. Our adorable grandsons will be happy to vouch for all the adventures and fun they've had playing alongside the pond. 

Can't wait to see you and your kiddos here soon!